Title VI
In-School Academic Tutoring
Federally funded program out of Washington, DC

Monies primarily pay personnel costs for Director and

Instructional Assistants who tutor math and reading

and instructional/student supplies

Native American preference for small group tutoring

To be eligible for program, the student, parent, or

grandparent must have Certificate Degree of Indian

Blood (CDIB) and/or tribal membership.

Documentation needed.

Parent/guardian must complete a Title VI Student

Eligibility Certification form (506 form)

Copy of the parent card is needed.
These students are eligible for all Title VI services listed below.
TITLE VI SERVICES included but not limited to:
Free tutoring during the school day

Grade/Attendance monitoring

Parental contact if child is on the Ineligible list

ACT Prep Course for So./Jrs.

Post-secondary planning

Scholarship application assistance

ACS Native American Club

Title VI Field Trips

Non-JOM sponsored activities and services

Parental support
PARENT COMMITTEE MEETINGS
5:30 PM
First Tuesday of each month (except July)
Administration Center,611 Veterans Blvd., Ardmore, OK 73401
All parents/guardians of ACS Native American students are encouraged to attend and participate.
Johnson O'Malley
(JOM)
Cultural/Academic
Tribally funded program through Chickasaw Nation

Monies pay costs for academic and cultural education and programs, supplies, incentives, etc.

To be eligible for program, the student must have a CDIB card of ¼ blood quantum or

tribal membership

Verified by making a copy of the student's CDIB and/or tribalmembership certificate or card

(The requisite Title VI Student Eligibility Certification (506) form must be on file in the Indian Education office.
These students are eligible for all Indian Education services (both Title VI / JOM)
JOM SERVICES included but not limited to:
all Title VI services plus:

school supplies

AMS/AHS course fees

one Fall, one Spring ACT fee for So./Jrs./Srs.

Senior cap and gown purchased by program

Cultural field trips and programs

JOM Awards Banquet or Site Celebrations
ALL STUDENTS MUST CONTACT THEIR TRIBES AND SUBMIT HONOR CLUB AWARD APPLICATIONS FOR A'S, B'S, AND PERFECT ATTENDANCE EACH QUARTER OR SEMESTER PER GUIDELINES OF TRIBE.
HS/MS may receive some course- specific supplies (art, geography, etc.) at Indian Ed. office. Bring class schedule and supply list.
GRADUATES MUST CONTACT TRIBE FOR GRADUATION HONOR CORDS!
Through Public Law 81-847, this is a federally funded program designed to assist school districts that have lost property tax

revenue due to the presence of tax-exempt

Federal property, etc., including children

living on Indian lands and in low-rent

Housing.

Money goes into the General Fund for use as

the district deems necessary

Most of our revenue at this time comes from

Chickasaw Nation Low Rent Housing and

Mutual Help Homes as well as Special

Services students who live therein.

Students do not have to be Native

American, but they must be living on

federally impacted property.

We can receive monies for students whose

parents/guardians work on federally

impacted property as well once the required

percentage is met. This is most usually

Chickasaw tribal businesses.

Chickasaw housing can be verified with a

source check form.

According to our Indian Policies and

Procedures, Ardmore City Schools Faculty

and Staff need to ensure that:

all children will participate in school

programs on an equal basis with all

other children attending school in the

ACS district;

informational summary sheets

describing PL 81- 847 are available;

seek and share input from the Indian

community regarding the education

of Indian children and any

educational programs provided with

said funds;

ACS considers recommendations of

the tribe and submits a timely written response as needed or if requested.

The annual Impact Aid Public Hearing will

be held each year in December at the

monthly Board of Education meeting.

Individuals or tribal officials may address

the Ardmore City Schools Board of

Education (Board) with any comments,

concerns, recommendations, or proposed

action by complying with the Boards

guidelines for being placed on the Board

Agenda.

The Impact Aid Task Force conducts four

meetings per year (1 st Tuesday of October,

December, February, and April) at 5:30 PM

in the ACS Administration Building for the

purpose of soliciting input from the tribe

and parents of Indian children on equal

participation.
Ardmore City Schools' Students (Pre-K – 12th ) are encouraged to attend our Native American Club meetings held on the first Thursday of each month beginning in September and ending in May. We usually meet at the Middle School Cafeteria from 4:00- 5:00 PM. A light snack will be provided. (Elementary students must have a parent/guardian attend with them).
Indian Education Calendar
Please look for our new Indian Education Calendar which holds upcoming Indian Education activities and programming. It can conveniently be found on our school website (ardmoreschools.org) and the parent committee's Ardmore JOM Facebook page (Ardmore JOM).
School Supply Distribution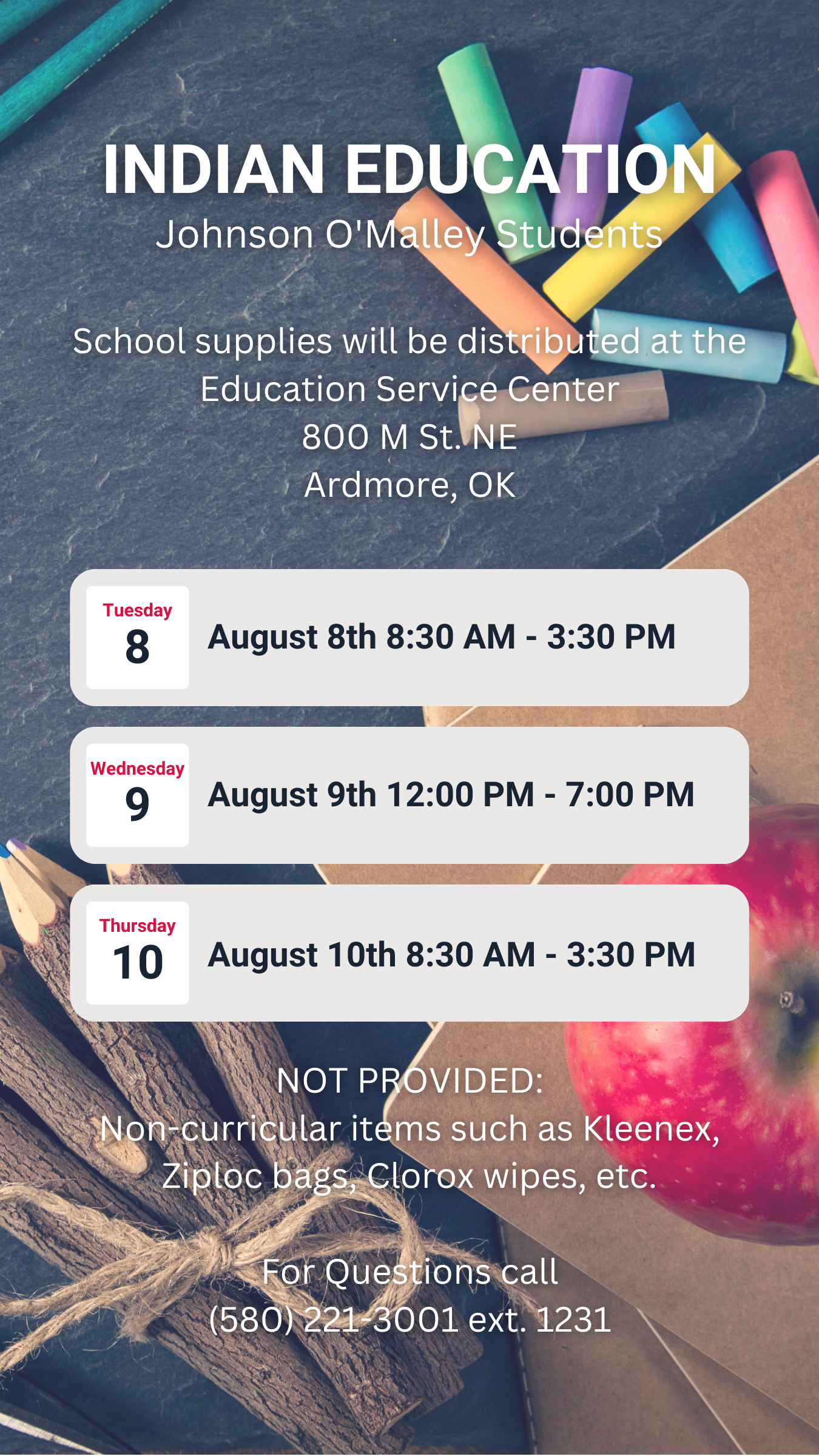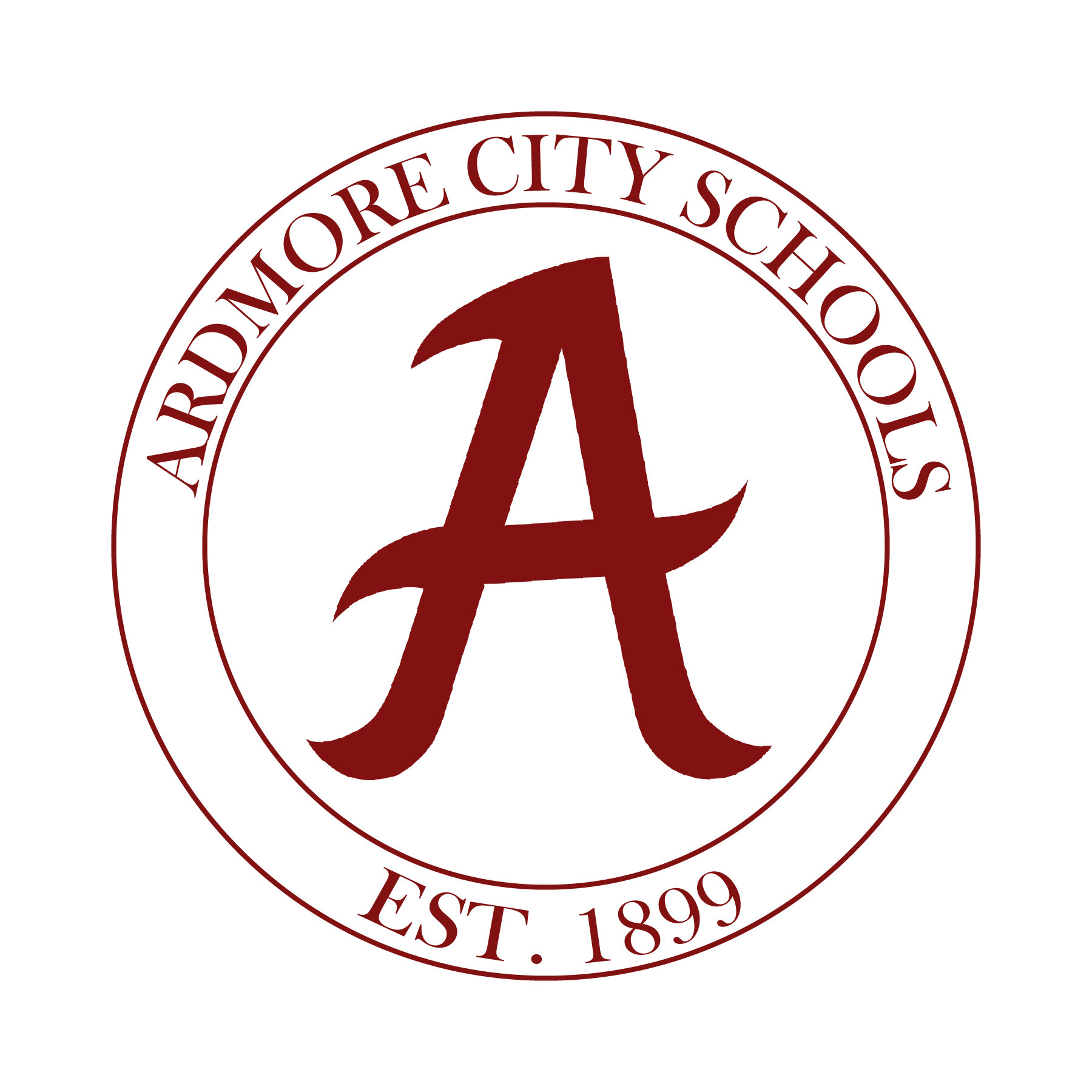 Kim Smith
Indian Education Director